Nathan Taylor on his winning YFZ-R150.
Round One of the PCRA Mitas Tyres Bucket Racing Championship held at Wakefield Park Raceway got under way with practice / qualy run in light drizzle and foggy conditions. However the day improved with the odd threatening spots of rain and sunshine appeared after lunch.
---
Qualy:
Motolite: 46 Mark O'Toole, Yamaha YFZ-R150 1:24.1410
Superlite: 38 Junior Murphy, Honda CB185 1:22.5420*
Commuterlite: 49 Greg Burt, Yamaha YFZ-R125 1:32.2940


Motolites
Nathan Taylor riding his Yamaha YFZ-R150 got his championship quest off to a great start with three wins to score maximum points. However he didn't have it his own way with Mark O'Toole YFZ-R150 and a couple of cheeky Superlites breathing down his neck.
The final Motolite results were #120 Nathan Taylor first, #46 Mark O'Toole second and #81 John Skeers Third. #93 John Olip DNF.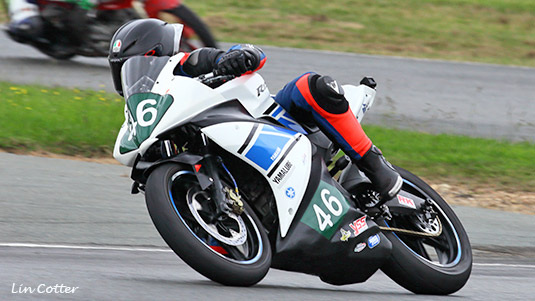 46 Mark O'Toole Yamaha YFZ_R150 piloting his nicely turned out machine to second place.'
---
Superlites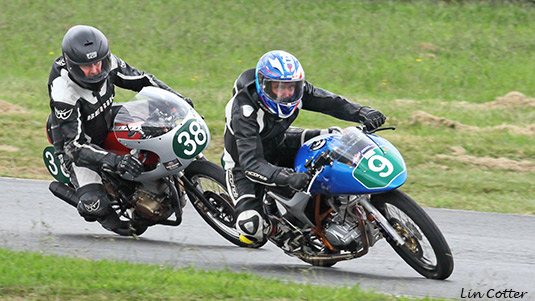 9 Blair Briggs on the Honda CB125E based machine dicing with 38 Junior Murphy on the older Honda CB125 both modified to 185cc.
#9 Blair Briggs riding the Garry Briggs prepared Honda CB125E BBE won the first two races and was second in race three to take overall honours. #38 Junior Murphy had a track detour in race one and had to play catch up but still finished second in class.
Races two and three these two had a terrific battle with Blair winning race two by a whisker and Junior winning the third race also giving the Motolites a hurry up.
#169 Ian Gregory Honda CB185 and #65 Tim Smith Honda CB185 were keeping a watching brief on the action ahead but finished overall in that order. #62 Jim Murphy was 5th with #22 Glen Livingston 6th.
---
Commuterlites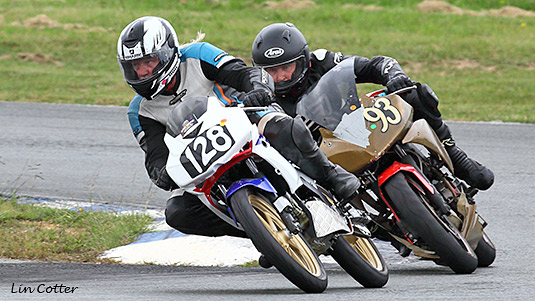 128 Edward Poucher Honda CBR125 was harried all the way by 93 Jason Davies Yamaha YFZ-R125 with 99 Eric Brat Suzuki GSXR125 third. Three different brands on the podium.
#128 Edward Poucher Honda CBR125 won all three races in the Commuterlite class with #93 Jason Davies Yamaha YFZ-R125 a close second.
#99 Eric Brat Suzuki GSXR125 and #717 Ken McLean Honda CBR125 had their own dice going with Eric prevailing. Like wise 5th and 6th finishers #57 Stuart Ellis Suzuki GSXR125 and # 69 Paul Evans Honda CBR125 were having a good go with Stuart prevailing. As usual with the Commuterlites there was groups of riders down the field fighting it out, always big grins inside the helmets when coming in after the races.
Commuterlite finishing order:
1st 128 Edward Poucher, 2nd 93 Jason Davies, 3 99 Eric Brat,
4th 717 Kenneth McLean, 5th 57 Stuart Ellis, 6th 69 Paul Evans,
7th 73 Daniel Florance, 8th 33 Mark Deeley, 9th 66 Andrew Lewer,
10th 77 David Morschel, 11th 52T Joshua Thiele, 12th 222 Andrew Hollier,
13th 49 Gregory Burt
---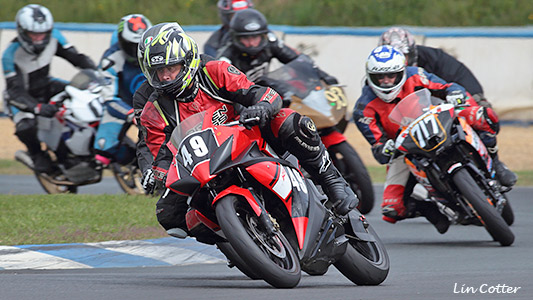 49 Gregory Burt Yamaha YFZ-R125 leads a group of Commuterlites at turn two.
717 Ken McLeod 93 Jason Davies.