Name: Tim Smith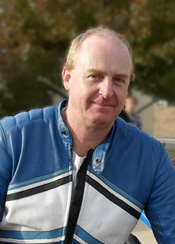 Town: Forest Reefs (Near Orange)
Age: 46
Favourite Music: Classic Aussie Rock
Favourite Movie: Lord of the Rings
Favourite Food: Stroganoff
Hobbies: CNC machining/Sand Casting
First Motorcycle: Honda Z50
First Road Motorcycle: Yamaha XZ550
First Racing Bike: Honda CL100 Superlite
What year did you start Bucket Racing?
2007
What age were you when you started Bucket Racing?
42
Any competition before Bucket Racing?
No
What do like most about Bucket Racing?
The Camaraderie, racing is hard but not too serious.
When did you have your first win or best result?
2009 1st. AM Superlite Championship + 1st. P5 250cc (on 150cc Superlite Bucket) Got Superman of Year award for that.
What was your best year?
2009
Favourite Track?
Eastern Creek
Favourite Event?
All Good
Favourite Race bike?
Superlite CL100(150cc)
Favourite Australian Rider?
Troy Bayliss
Favourite International Rider?
Loris Capirossi.
Favourite International Race Series?
MotoGP.
Current bike projects?
Suzuki GSXR400 Race/Road bike.

List of Results:

2011 3rd. Superlite Pro Championship
2011 2nd 500cc 4stk Championship (GSXR400)
2010 2nd. P5 250cc Championship (Riding 150cc Superlite)
2009 1st. Superlite AM Championship
2009 1st. P5. 250cc Championship (Riding 150cc Superlite)
2009 1st. Superlite AM at BSFOS Eastern Creek.
2008 3rd. Superlite AM Championship
2007 3rd. Superlite One Hour (with Rick Kwok)