December 2010 News
2010 PCRA / BRA Presentation will be held at the usual venue the
IMPERIAL HOTEL, MT VICTORIA
on Saturday the 11th December
Lunch at O'Connell Hotel.
Ride or bring your bike for a 120K round trip from Mt. Victoria to O'Connell and back.
For full details of Presentation night and O'Connell ride Download from the PCRA website Here...



Broadford 2010
For full race report Click Here



2010 Championship Results Table posted. For full results tables
Click here...


Building a Commuterlite Racer: All you need to Know. The most economical way to get into competitive motorcycle road racing ever.



Commuterlite Pictures Click Here

More News Click Here



The 2010 Club Championship, after the 4th and final round: top three in Motolite, Superlite Pro and Superlite Amateur are listed below.
---
2010 Motolite Championship Results.
---

---

1st
#16
Michael Carruthers
Honda RS85
312pts


---

---

2nd
#14
Ken Lawrence
Honda RS150CRF4v
308pts


---

---

3rd
#93
Paul Borg
Honda RS85CR
251pts

---

2010 Superlite Pro Championship Results

---

---

1st
#15

Jeff Clissold
Honda CB150
362pts


---

---

2nd
#69

Ian Gregory
Honda CB150
329pts


---

---

3rd
#25

Fred Holland
Honda RCB150
310pts


---
2010 Superlite AM Championship Results
---

---

1st
#38

Walter Murphy

Honda 150
347pts


---

---

2nd
#76

Adam Muldoon

Honda 150
329pts


---

---

3rd
#85

Suzii Stevens
Suzuki 125
255pts

---
All 2009 PCRA Championship Results:
Click Here for results table PDF
For all Race Results and lap times:
Click Here for Natsoft.com
Broadford 2010
Sunny weather a great track and exciting racing made for an unforgettable weekend at Broadford. Everyone was made welcome by our Southern hosts. A barbeque was put on by the PCRA on Sat and Sun after the racing which made for a friendly atmosphere over a beer and steak.
For full race report Click Here



Bucket Nationals 2011: The Budget for the Bucket Nationals can be downloaded for perusal, it's an interesting insight into the costs of running a race meet.
Download


Bucket Nationals 2011: The Bucket meeting to end all bucket meetings will take place at Wakefield Park next year. The track has been tentatively booked for the last weekend of Sept. 2011 (24th -25th) A large Interstate contingent is expected.


Media Update:
Jeff Brown BRA Communications Officer.
Entry Level Motorcycle Racing - a New, Low Cost Race Class!!!
Download PDF.


Pictures from Eastern Creek Round 3:
Click Here...

In The Pits: Click Here...



New bikes seen at Wakefield Round 2: A number of new buckets appeared at Wakefield, build quality is really good, a credit to all involved. For Pix Click Here
See Building a CBR125 Commuterlite
---
Links are moved to the menus, top and bottom of pages
Bucket 1 Hour Enduro race meeting at Wakefield Park.

Sat 20th. - Sun. 21st.Nov. 2010
Garry Briggs and Stephen Byrnes win an exciting 1 hour Motolite Race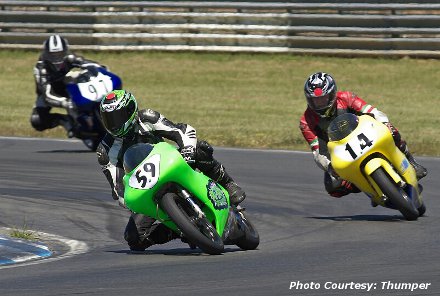 ABOVE: