Broadford Bucket Finals 2010
Race Report
Oct. 2nd. and 3rd.
Sunny warm days greeted the NSW visitors although it was a lot cooler at night for the campers. A great weekend was had by all not counting those who had get offs. We wish Matthew Hanna a speedy recovery.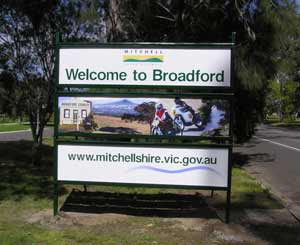 Although some riders didn't make the long journey down to Broadford.
Most of the Bucket Championship contenders were present and the scene was set for some good racing.
Qualifying
Qualifying produced a few surprises with Paul Borg (Chris Sculley tuned Honda RS85cr) being over a full second quicker than the Motolite championship contenders Michael Carruthers(APW Honda RS85cr) and Ken Lawrence(Toolup Honda RS159RCRF).
Andrew Jones (Honda CB150 Superlite AM) on his only ride this year was quickest of the AMs in a time that was only 0.2 sec slower than Jeff Clissold(Honda CB150) the reigning Superlite Pro Champion who was quickest of the Superlite Pros.
Motolites
Barring any bike troubles or DNFs the championship was between Michael Carruthers APW Honda RS85cr (2 points lead coming into Broadford) and Ken Lawrence Toolup Honda150CRF4v with Paul Borg ready to pounce should they have any hiccups.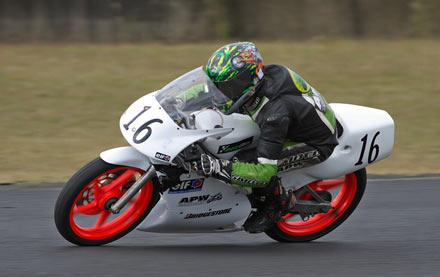 Race 1 (Saturday)
Paul Borg was away into an unassailable lead with Michael and Ken battling it out behind. Stephen Kairl Moriwaki 80 was next ahead of a gaggle of Superlite Pros.
Paul took the chequered flag 6.2 seconds ahead of Michael Carruthers with Ken Lawrence 2.2 seconds further back. Stephen Kairl (Moriwaki80) was next finisher followed by Brian Mowle (Honda CBR150) and Shane Wilcox (Chris Sculley RS85CR)
Michaels lead was now out to 4 points.
Race 2
Michael led the race off of the start but Paul passed him on the back straight on the 2nd lap. and proceeded to pull away. Michael led Ken until until lap 3 when Ken pulled off a daring pass up the inside at "crash corner" and held the advantage to the end to take 2nd place. Championship was now back to 2 points advantage for Michael who was followed home in the race by Stephen Kairl, Shane Wilcox, Brian Mowle and Ron Matthews(Honda100).
Sunday Warm-up
A beautiful sunrise heralded in another fine day for racing. Paul Borg was again quickest of the Motolites but Ken Lawrence was flying and had cut down Pauls previous day's advantage to just a whisker with Michael .77secs further back.
Was it over for Michael? Still' 3 races to go 75 points up for grabs, warm up times are one thing the races are where it counts. Jeff Clissold incredibly was next on his Superlite Pro a fine effort.
Race 3 (Sunday)
It looked like business as usual with Paul getting the start from Michael and Ken and looked to stay that way until lap 4 when lapped traffic worked in Kens favour allowing him to slip past Michael and hold on to finish 2nd. The finishing order was Paul, Ken, Michael, Shane, and surprisingly Andrew Jones was next on a SUPERLITE AM in a great ride putting his Superlite in amongst the Motolites ahead of Brian Mowle and Ron Matthews.
Michael and Ken were now on an even points score with 2 races to go.
This close finish to the end of the Motolite championship makes MotoGP look sooo boring.
Race 4
Tension was mounting in both camps as they prepared for the final races, bikes checked and rechecked. Another close start with once again Paul Borg establishing an early gap and continuing to pull away. There was nothing in it between the 2 championship rivals with Michael holding a slender advantage but just as Ken was about to mount a challenge the race was red flagged, Brian Mowle had stepped off exiting the last corner thankfully Brian was unhurt but bike damage put paid to his day. So the race results after 4 laps:
1, Paul Borg, 2. Michael Carruthers, 3, Ken Lawrence, 4. Shane Wilcox. 5.Alan Hay, 6. Ron Matthews.
The points score is now back to 2 points advantage to Michael.
Race 5 Final race

Well it had all come down to this, 1 years racing and only 2 points between the title contenders. Ken would have to win to be sure of getting the championship so he was in a determined mood as he headed to the start line. Michael looked calm and collected as he faced the start lights.
Kens determination paid off as from grid 3 he got the hole shot and started to open out a gap down the back straight. This was short lived as he left his braking too late and ran wide allowing Paul and Michael past. Try as he might he could not make up the lost time to Michael. The title chase was over Michael Carruthers is the 2010 BRA Motolite champion, a worthy champion. So hot was the pace that the 3 riders finished within a second of each other. They were followed home by Shane Wilcox (4th), Alan Hay (5th) and Ron Matthews (6th)
In the end Michael won by 4 points a great finish to the year for him.
For the full Results table: Click Here

Superlite Pro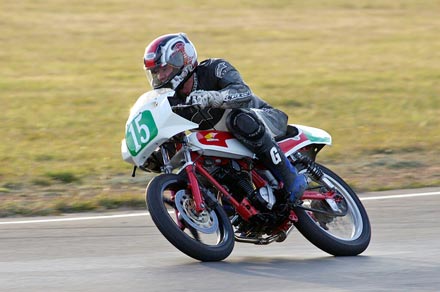 Race 1
With Jeff Clissold living up to his qualifying performance he quickly established a break on Ian Gregory and Fred Holland with Fred reversing the order by the finish. Ken Lindsay and Tim Smith were the next finishers.
Race2
Jeff got away to another flying start and proceeded to pull away from Ian Gregory. Ken Lindsay got the better of Fred Holland.
Race3
Jeff muffed the start and was the last Pro away but he quickly started to pick up places and was in the lead by the final lap ahead of Fred Holland, Ian Gregory Ken Lindsay and Tim Smith.
Race4
After 4 laps the race was red flagged due to a rider down (Rider OK) the finishing order was Jeff, Fred, Ian, Ken and Tim.
Race5
In the final race Jeff was in devastating form winning by over 7 seconds. After a great tussle Fred and Ian had only .1sec between them at the finish. Ken and Tim were the next finishers.
Jeff Clissold retains the Superlite Pro Championship for another year with Ian Gregory 2nd and Fred Holland finishing 3rd.
For Full Results table Click Here.
Superlite AM
The Superlite AM class had an extra rider Andrew Jones making a one off ride I suspect warming up for the one hour race in Nov. Andrew proceeded to dominate the AM qualifying and races and was quick enough to mix it with the Superlite Pros.
The Superlite AM championship was between Walter Murphy (+30pts) and Adam Muldoon with Suzii Stevens in with a chance should they strike trouble.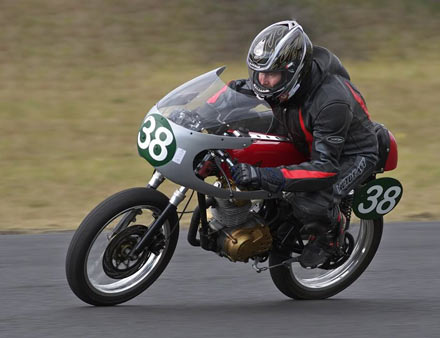 Race1
Andrew Jones (Honda CB150) cleared off to race with the Superlite Pros with Adam Muldoon(Honda CB150) next, followed by Walter Murphy(Honda CB150), Scott Waters(Suzuki125), Suzii Stevens(Suzuki125) and Jim Murphy(Jianshe JS150) Adam finishing in 2nd would not be good enough to haul in Walters points lead but with 4 races and 100pts available it wasn't over yet.
Race2
Again Andrew was unbeatable in the AM class. Adam Muldoon was holding down 2nd with Walter not far behind, the next group had Jim ahead of Scott and Suzii.
Race3
First race on Sunday, championship leader Walter gave himself a scare by stalling on the line and as the field disappeared around the first corner he struggled to get the bike going. Finally he got away and set off in hot pursuit. Meanwhile Andrew had cleared away with Adam 2nd and Jim 3rd followed by the duelling Suzukis with Suzii reversing the previous race order on Scott. On the last lap Walter had made up enough ground to pass Suzii and Scott to finish 4th. a big sigh of relief for him.
Race4
This race was red flagged due to a rider down (Rider OK).4 laps were counted,
The finishing order was Andrew, Adam, Walter, Jim, Suzii and Scott.
Race5
Final Race in the Club Championship. Walter still has a 20pt lead and barring problems the championship is his. Suziis 3rd place looks safe too as long as she finishes the race.
The race followed the same pattern as before with Andrew clearing off to race with the Pros and Motolites. Adam holding down an excellent 2nd and Walter a further second behind. The rest of the Superlite AM fields order was Jim, Scott, and Suzii. The 2010 Superlite AM championship was done and dusted.
Walter Murphy is the 2010 Superlite champion with Adam Muldoon runner up.
Suzii Stevens the only lady rider in Bucket racing finished a fantastic 3rd in the championship riding a Suzuki 125. Suzi finished in all races she entered making it a perfect finishing record.

For Full Results table Click Here.
All Pictures Courtesy Thumper