Name: Ken Lawrence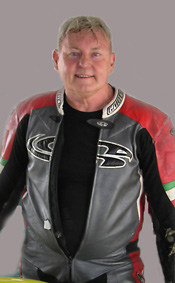 Town: Newcastle
Age: 59
Occupation: Tool Salesman and Business Owner.
Favourite Music: Foo Fighters, Greenday.
Favourite Movie: The Castle.
Favourite Food: Anything.
Favourite Car: 1942 Army Jeep (tough and rugged… and I own one).
Favourite Colour: None - Colour blind.
Hobbies: Bikes, Trikes.
Other Sports: No thanks.
First Motorcycle: A.J.S. Matchless 500
First Road Bike: Bridgestone 250.
First Racing Bike: 1981 ATC185 Trike (still own it)

What year did you start Bucket Racing?
1998
What age were you when you started Bucket Racing?
46
Any competition before Bucket Racing?
Trike and Quad racing - flat track
What do like most about Bucket Racing?
Camaraderie and tough but fair competition
When did you have your first win or best result?
First race win - First year racing at Oran Park figure 8,
Best championship 1998 2nd and 2010 2nd.
Favourite Track?
Wakefield Park
Favourite Event?
All of them.
Favourite Race bike?
My Current bike - NSF150R
Favourite Australian Rider?
Casey Stoner.
Favourite International Rider?
Marc Marquez.
Favourite International Race Series?
MotoGP.
Current bike projects?
Post Classic 125 - CB125
List of Results:
2010 2nd. Motolite Club Championship.
2010 2nd. Motolite 1 Hour Enduro Wakefield Park (With Michael Carruthers)
2009 4th. Motolite Club Championship
2004 4th Motolite Club Championship
1998 2nd Superlite AM Championship
1998 Started Bucket Racing


BB
Australian Champion flat track Quads 250cc '89, '90, '91 and Quad open
class Australian champion '91
Numerous trike championships between '81 and '88