Name: John Olip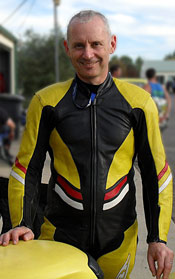 Nick Name: Uncle John
Town: Dulwich Hill, Sydney
Age: 49
Occupation: Electronics Engineer.
Favourite Music: Midnight Oil
Favourite Movie: Pulp Fiction
Favourite Food: Spagetti with Pesto
Favourite Car: None.
Hobbies: Cycling, Motorcycle electronics (if I ever get time)

Other Sports: Cycling, Triathlons.

First Motorcycle: 1979 Suzuki GP 125 (although I did "find" and ride a Vespa that I found in the lane behind our house which turned out to be belong to our neighbours.)

First Racing Bike: 1979 Suzuki GP 125

What year did you start Bucket Racing?
2005
What age were you when you started Bucket Racing?
43
Any competition before Bucket Racing?
No
What do like most about Bucket Racing?
It's relatively inexpensive, great fun and not too serious.
When did you have your first win or best result?
2009 Barry Sheen 3rd. 125cc P5.
What was your best year?
2011 by a mile
Favourite Track?
Broadford, Victoria.
Favourite Event?
One Hour.
Favourite Race bike?
Moriwaki 85cc
Favourite Australian Rider?
Everyone ahead of me
Favourite International Rider?
Randy Mamola
Favourite International Race Series?
None
Current bike projects?
Under orders from "she who must be obeyed" to respray and overhaul the Moriwaki

List of Results:

3rd. 125cc Forgotten Era Barry Sheene Festival of Speed April 2009
3rd. Forgotten Era Bucket national Support Event August 2009
2nd. 125cc Forgotten Era Eastern Creek August 2011
2nd. 125cc Forgotten Era Wakefield Park September 2011
3rd. 1 hour Endurance Challenge Motolite Wakefield Park September 2011
2nd. Forgotten Era Broadford October 2011
3rd. Motolite Broadford October 2011
3rd. Motolite BRA PCRA Club Championship