Commuterlites
The BRA are interested in introducing a new Bucket Category called Commuterlites. The attraction of this category is the ease of starting to race & being competitive straight out of the box. Machines will be virtually standard with some practical changes. Listed below is a set of draft rules. Please read these rules & if you have any thoughts please contact Ken Lindsay ASAP. We are hoping to get this up & running ASAP.
Racing class open to all 4 stroke 125cc Commuter bikes.
To be eligible for racing, the motorcycle must have:

ADR Compliance.
It must have a 4 stroke engine of no more than 125cc.
The motorcycle must be made to comply with any general requirements of road racing in the MOMS.

The following items may be modified from OEM.

<![if !supportLists]> <![endif]>Body work, provided the replacement bodywork provides the same profile as OEM

External gearing and drive chain.

Carburettor jetting / Fuel injection mapping.

Air filter.

Tyres.

Brake pad material.

Exhaust system.

Hand and foot controls.<![if !supportLists]><![endif]>

<![if !supportLists]> <![endif]>Front Fork springs.

<![if !supportLists]> <![endif]>Rear shock and springs.

All other parts must remain as supplied OEM.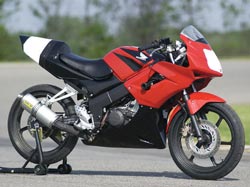 CBR125 as used in the Canadian Series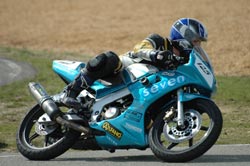 Click for Larger Picture
CBR125 as used in a European Endurance Series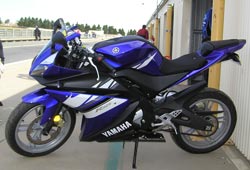 Click for Larger Picture
Yamaha R125 is eligible
List of eligible bikes:
Honda CBR125R

Yamaha YZF R125

Sachs 125

Kymco 125