Name: Tyler Bradford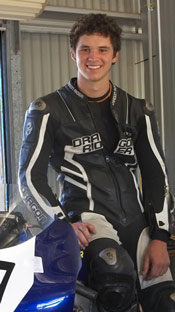 Nick Name: TJ
Town: Newcastle
Age: 19
Occupation: Plumber
Favourite Music: All
Favourite Movie: Talladega Nights
Favourite Food: All
Favourite Car: XR6 Turbo Ute.
Hobbies: Motocross Speedway
Other Sports: Motocross
First Motorcycle: Peewee 50.
First Racing Bike: 150 Motolite

First Road Bike: None yet

What year did you start Bucket Racing?
2009
What age were you when you started Bucket Racing?
16
Any competition before Bucket Racing?
Speedway racing AMCAS.
What do like most about Bucket Racing?
Close racing
When did you have your first win or best result?
Oran Park 2009 and Eastern Creek 2010.
Favourite Track?
Eastern Creek.
Favourite Event?
One Hour.
Favourite Race bike?
Honda RS 125
Favourite Australian Rider?
Casey Stoner.
Favourite International Rider?
Casey Stoner.
Favourite International Race Series?
MotoGP
Current bike projects?
None (Preparing current bikes for next year)
Results:
2011 4th. Motolite Class Bucket Nationals Wakefield Park.
2010 4th. Round 3 Eastern Creek 2010 PCRA Club Championship.
2010 3rd. Motolite Class One Hour Enduro Wakefield Park (Partnered with Aaron Morris)
2010 3rd. Motolite Class Sprint Races Wakefield Park.
2009 3rd. Motolite Class Round 6 Oran Park PCRA Club Championship
2009 4th. Motolite Class Round 4 Oran Park PCRA Club Championship