Name: Michael Lemon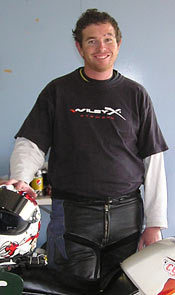 Nick Name: ML
Town: Newcastle
Age: 30
Occupation: Riding Instructor
Favourite Music: Rock
Favourite Movie: Faster and Faster.
Hobbies: Riding motorcycles.
Is there anything else?

Other Sports: Xbox 360!

First Motorcycle: Kawasaki GPX250.
First Road Bike: Kawasaki GPX250.

First Racing Bike: Husky SMR450.

What year did you start Bucket Racing?
2009.
What age were you when you started Bucket Racing?
28.
Any competition before Bucket Racing?
East Coast race series.
What do like most about Bucket Racing?
Fun and enjoyable.
When did you have your first win or best result?
3rd. at the last ever historic race at Oran Park.
Favourite Track?
Eastern Creek (closest)
Favourite Event?
Buckets.
Favourite Race bike?
Honda CBR 125RR.
Favourite Australian Rider(s)?
Broc Parkes, Kevin Curtain and Anthony West.
Favourite International Rider(s)?
Valentino Rossi, Colin Edwards and Ben Spies.
Favourite International Race Series?
MotoGP and SBK.
Current bike projects?
GS150 for Period racing and fine tuning the CBR125RR.
Results:
2010 4th. One Hour Superlite class
2009 3rd Superlite AM Championship
2009 3rd Historic class Oran Park