Name: Paul Borg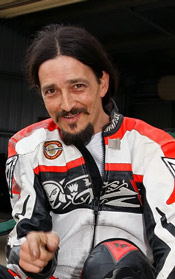 Nick Name: Spook, Spooky or Spookster
Town:Sydney
Age: 45
Occupation: Sales
Favourite Music: Blues
Favourite Movie:
Favourite Food: Pork.
Favourite Colour: Orange.
Favourite Car: Falcon GT.1971, Dodge Charger 1969
Hobbies: Racing motorcycles
Other Sports:

First Motorcycle: A100 Suzuki.
First Racing Bike: Moriwaki

First Road Bike: RZ500

What year did you start Bucket Racing?
2007
What age were you when you started Bucket Racing?
40
Any competition before Bucket Racing?
Superkarts 125 and Minimoto
What do like most about Bucket Racing?
The people and tight competition.
Whats your preferred Class(s) ?
Motolite, 125 P6, likes to dabble in other classes when possible e.g. the 8 hour race at Phillip Island on an R6.
When did you have your first win or best result?
Best win, 2009 Motolite Championship and 2011 One Hour with Jason Dunn.
Favourite Track?
Phillip Island..
Favourite Event(s)?
Barry Sheene Festival of speed and Phillip Island 8 Hour.
Favourite Race bike?
250GP
Favourite Australian Rider?
Mick Doohan.
Favourite International Rider?
Marc Marquez.
Favourite International Race Series?
Isle of Man TT.
Current bike projects?
RS125/85 Sculley Special (number 3 built)
Other Info:
The only thing I love more than racing... is being a dad
Graded to A grade for 2012.
List of Results:
2011 1st. Motolite One Hour with Jason Dunn Wakefield Park.
2011 1st. Motolite cycletorque Bucket Nationals Wakefield Park.
2011 2nd. Motolite Club Championship.
2011 3rd. P6 125cc BSFOS Eastern Creek.
2010 125 New Era Club Champion.(now P6)
2010 2nd. New Era 125cc BSFOS Eastern Creek.
2009 1st. Motolite Club Championship.
2009 2nd. Motolite team race Oran Park.
2009 3rd. Motolite BSFOS Eastern Creek
Competed in the 2011 8 hour race at Phillip Island, started last on the grid and at the end of my stint we were 17th. outright and 3rd in class on a 1999 R6.