Name: Adam Muldoon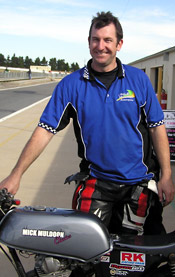 Nick Name: AD
Town: Bathurst
Age: 38
Occupation: Bike Sales
Favourite Music: Greenday
Favourite Movie: Fast n Furious
Favourite Food: Anything Rachel cooks.
Favourite Car: Holden.
Hobbies: Racing with the PCRA
Other Sports: Rugby League

First Motorcycle: Honda XL250 1982 model.
First Racing Bike: CB750

First Road Bike: YZF750 1995

What year did you start Bucket Racing?
2010
What age were you when you started Bucket Racing?
37
Any competition before Bucket Racing?
P4 Unlimited, Honda CB750
What do like most about Bucket Racing?
Close racing
When did you have your first win or best result?
Round one 2010 Superlite AM Wakefield Park.
What was your best year?
2011
Favourite Track?
Wakefield Park.
Favourite Event?
All PCRA rounds.
Favourite Race bike?
Honda CB 750
Favourite Australian Rider?
Sam Muldoon.
Favourite International Rider?
Mick Doohan.
Favourite International Race Series?
Isle of Man TT.
Current bike projects?
None (Preparing current bikes for next year)
List of Results:
2011 1st. Superlite AM Championship
2011 1st. Unlimited P4 Championship
2010 2nd. Superlite AM Championship
2010 2nd. Unlimited P4 1 Hour
2009 1st. P4 Unlimited 1 Hour Winner
2008 2nd. Unlimited P4 Championship