News Page
May 1st 2011
BRA Display Stand at Barry Sheene Festival of Speed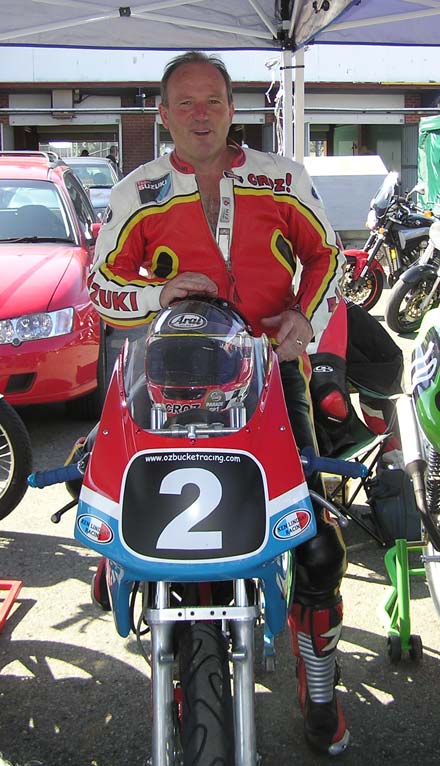 The Bucket Racing Association was honoured to have two famous riders Graeme Crosby (above) and Robbie Phillis (below) visit their display stand. They both denied rumours of a shift to Bucket Racing.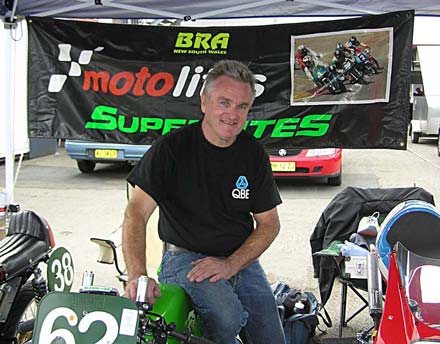 Robbie won both heats of The Barrie Sheene Memorial race taking out the Trophy in convincing style and finished 2nd in the Post Classic & Forgotten Era 750cc & Unlimited on his Mick Hone 1100 Suzuki after a DNF in one leg.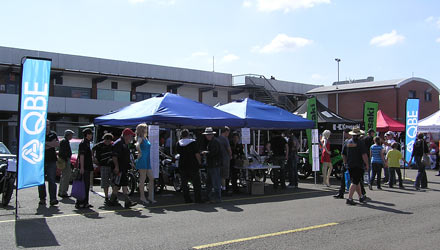 The BRA stand was a busy place for most of the weekend

---
2011 Bucket Championship Round 1 at Wakefield Park.
Sun. 6th. Feb. 2011
Newcomer to Motolite class Jason Dunn wins the day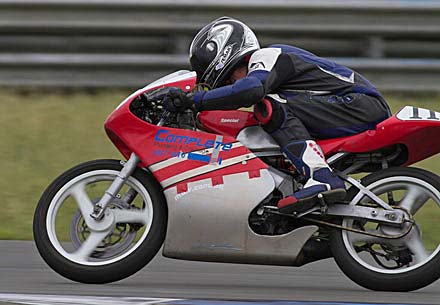 ABOVE: Jason Dunn picked up 2 wins and a second to take out the overall win at the first 2011 Motolite round at Wakefield Park.
Photo Courtesy: Thumper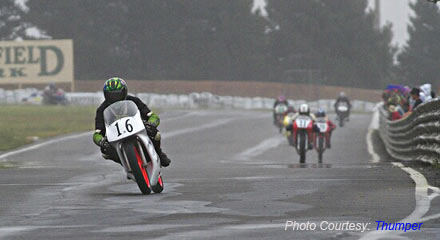 ABOVE: Defending Motolite Champion #16 Michael Carruthers (APW Motorcycles RS85cr) proved to be the rainmeister winning the first race by over 5.5 secs. from #11 Jason Dunn on a wet and slippery track. They were followed home by # 93 Paul Borg and # 14 Ken Lawrence.
Photo: Courtesy Thumper
Superlite Pro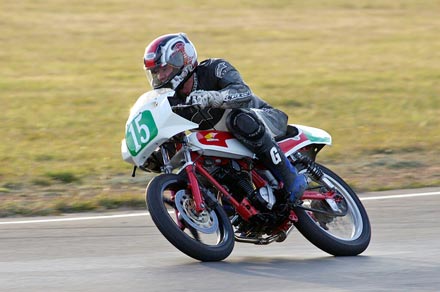 ABOVE: Jeff Clissold took up where he left off last year winning all 3 races in the Superlite Pro class scoring maximum points, but he was pushed all the way by Ian Gregory and Ken Lindsay who finished 2nd and 3rd respectively
Photo: Courtesy Thumper
Superlite AM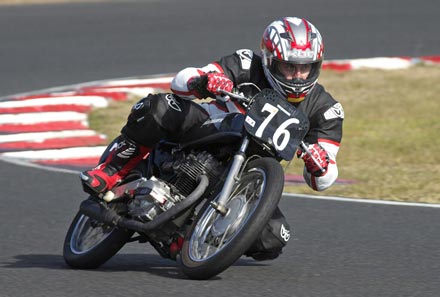 ABOVE: Adam Muldoon got a great start to the year winning 2 Races and being just pipped on the line by #38 Walter Murphy on the final race. Walter finished 2nd overall and Jim Murphy 3rd.
Photo: Courtesy Thumper
Click Here for 2011 Results Table
New Bikes seen at Wakefield Park
ABOVE: Bob Murphy's new Motolite created quite a stir at the far end of the pits. Bob placed 8th overall despite some teething problems and some off course antics on the last race. Frame is a RGV250 with 200cc XR200 motor fitted. Nice bike Bob.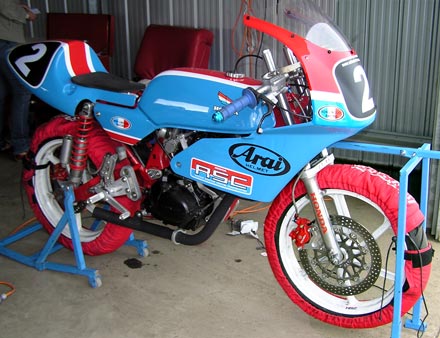 ABOVE: Club President Ken Lindsay's totally revamped Superlite looked stunning. The bike was completely stripped down and rebuilt. New modifications to chassis, suspension and motor were carried out topped off with a brilliant paint job.


Attention to detail is everywhere, Ken must have burned the midnight oil on this one.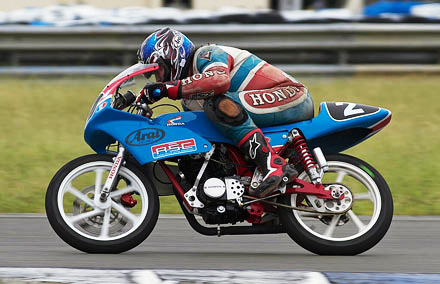 ABOVE: The King was looking very racy from the getgo and was on the pace finishing 3rd on the day after some great dicing with Jeff Clissold and Ian Gregory in the Superlite Pro Class

Photo Courtesy: Thumper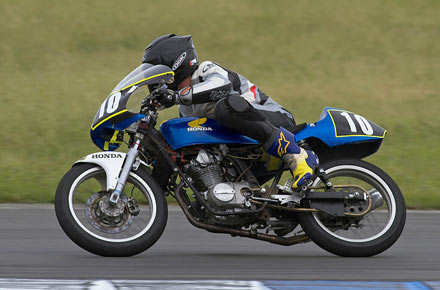 ABOVE: Andrew Jones aired his new bike for the first time but was beset with electrical problems. When he was running he was quick but failed to score any points.
Photo Courtesy: Thumper