The BRA in conjunction with the PCRA have successfully introduced a new Bucket Category called Commuterlites. The attraction of this category is the ease of starting to race and being competitive straight out of the box. Machines are virtually standard with some practical changes listed in Building a Commuterlite Racer.

If you are new to bike racing or just want to give it a go this is the ideal class to start off in. Bikes with superficial damage can be bought cheaply at insurance auctions and easily be prepared for racing. See the rules for what's allowed.

The first Club Championship for Commuterlites (2011) was won by Ron Carrick on a Honda CBR125. Ron also won the class in the One Hour race teamed with Chad Slade.

The first Commuterlite Bucket Nationals Trophy (2011 Wakefield Park) sponsored by cycletorque was won by Mark Strong. See 2011 Results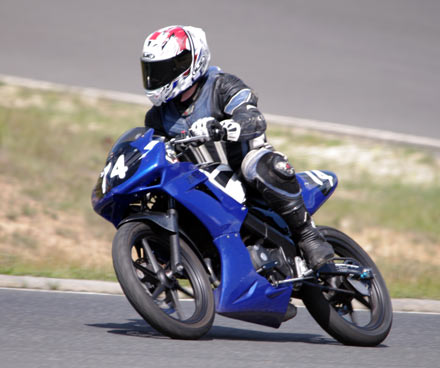 Ron Carrick clinching the first Commuterlite Championship at Broadford Vic. (
As well Ron partnered with Chad Slade to win the Class in the 2011 One Hour Enduro at Wakefield Park and finished sixth overall (out of 30 starters) proving that these machines are a viable and fun to ride racing bike.