Rider Profile
#59 Garry Briggs Profile.
Name: Garry Briggs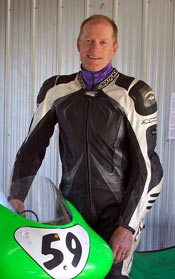 Nick Name: Phantom
Town: Barnsley (Newcastle)
Age: 54
Favourite Music: Deep Purple, Pink Flyod
Favourite Movie: 2001 Space Odessy
Favourite Food: All
Favourite Car: Aston Martin, English cars 1962 - 75.
Hobbies: Refurbishing old English cars
Other Sports: Running.
First Motorcycle: KZ1000
First Road Motorcycle: KZ1000
First Racing Bike: CB125 Twin

What year did you start Bucket Racing?
1998
What age were you when you started Bucket Racing?
40
Any competition before Bucket Racing?
No mainly riding road bikes
What do like most about Bucket Racing?
Building interesting bikes and close fun racing.
When did you have your first win or best result?
First won in 1999 moved up from Am to Pro half way through Year. Win was at Oran Park.
What was your best year?
2000 Won One Hour Enduro, Bucket Nationals and Bucket Championship
Favourite Track?
Oran Park South.
Favourite Event?
One Hour.
Favourite Race bike?
Current RS150CRFr.
Favourite Australian Rider?
Mick Doohan.
Favourite International Rider?
Eddie Lawson.
Favourite International Race Series?
MotoGP.
Current bike projects?
X7 Suzuki and KZ1000r Eddie Lawson Replica
Garry is the proprietor of "Big Bang Engines" and would have to be one of the most successful riders in Motolite and Superlite racing. Always innovative and on the leading edge of technology his bikes are always running at the front and with more and more riders beating a path to his dyno the standard of competition keeps improving.
Always helpful (as most Bucket Racers are) there isn't any engineering or tuning task that he can't handle.
List of Results:

2010 1st Motolite 1 Hour Enduro Wakefield Park
2009 1st Motolite 1 Hour Enduro Wakefield Park
2009 3rd Motolite Club Championship
2008 1st Motolite Club Championship
2008 2nd Motolite 1 Hour Enduro Wakefield Park
2007 2nd Motolite 1 Hour Enduro Wakefield Park
2006 1st Motolite Championship
2005 1st Motolite 1 Hour Enduro Wakefield Park
2004 2nd Motolite Club Championship
2003 1st Superlite 2stk/4stk combined
2002 1st 4stk Bucket Club Championship
2002 1st Bucket Nationals Broadford
2001 3rd Bucket Championship Superlite Pro
2000 1st Superlite 1 Hour Enduro
2000 1st Bucket Nationals
2000 1st Bucket Championship Superlite Pro
1999 4th Bucket Championship Superlite AM
1999 1st Garry Briggs / Steve Cutting T J's Race Paint One Hour
1999 1st Amateur Feature Race Oran Park
1999 Started Bucket Racing