Round 4 was run on the full Gardner GP circuit on a dry overcast winters day and once again there was excellent close racing put on by the Bucket racers.
#46 Mark O'Toole Yamaha YFZR150 Motolite on the way to winning
round four
Race 1
Motolite Championship leader 120 Nathan Taylor (Yamaha YFZR150) won the first race in fine style with #46 Mark O'Toole (Yamaha YFZR150) 2nd and #11T Alex Tamras 3rd (Yamaha R15) making it a complete podium lockout for Yamahas, a first in Bucket Racing history.
Race 2
#46 Mark O'Toole (Yamaha YFZR150) won Race two as Nathan struck problems with his Yamaha and didn't finish. This elevated #11T Alex Tamaras Speedy Boiz Yamaha R15 to 2nd and #94 John Olip (Moriwaki80) to 3rd.
Race 3
With #120 Nathan Taylor not making the start, again #46 Mark O'Toole went out the winner and # 11T Alex Tamras crossed the line in 2nd. #94 John Olip brought his Moriwaki 85 home 3rd. first 2 stroke home.
The podium finish positions for the day was as Race 3.

Round 4 final positions'
---
Superlites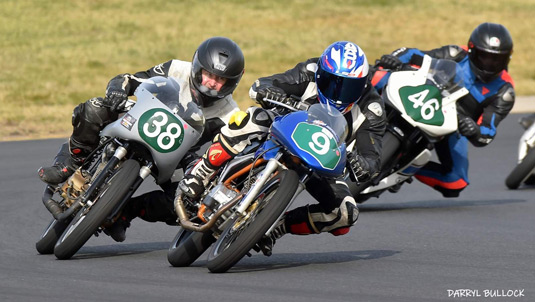 #9 Blair Briggs #38 Junior Murphy and 46 Mark O'Toole in close formation typical of the racing put on by this trio.
Race 1
#9 Blair Briggs (Honda CB185E Big Bang Race Engines) Continued on his winning ways winning the slip streaming battle to the line with #38 Junior Murphy (Honda CB185 BBRE) losing out by half a wheel. Tim Smith didn't make the start due to an engine problem.
Race 2
Off the line #9 Blair made a cracking start leading #46 Mark O'Toole (Yamaha YFZR150) and #38 Junior Murphy into turn one. Blair was quickly passed by Mark on the run to turn two but try as he might Mark could not break free of the two Superlites and a three way slipstreaming battle went on throughout the race.
Final Lap Junior got it just right getting the double slipstream and crossed the finish line 7 100ths of a second ahead of Mark with Blair 1 10th. further back, Blair posting the fastest lap of the trio.
John Olip generously lent his P5 Suzuki GP125 to Tim Smith who scored 3rd.
Race 3
Race three looked like it might be a repeat of race two but the gremlins struck on the #9 Blair Briggs bike and his lap times started to drop away still managing to hold on to second place. #38 junior had a comfortable Superlite win over the slowing Blair. #65 Tim Smith again on the John Olip Suzuki finished 3rd. salvaging a reasonable points haul.

Superlite Round 4 final positions'
---
Commuterlites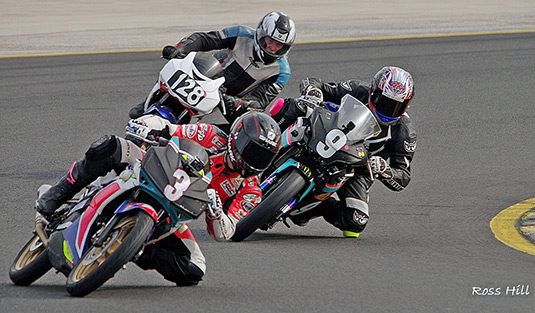 Typical Commuterlite action #3 Luke Young #9 Chris Young having a great dice with championship leader #128 Edward Poucher holding a watching brief adding up the points.
Race 1
#11Y Barry Young Honda CBR125 on his return to SMSP ran out a comfortable winner in Race one although #3 Luke Young Honda CBR125 led his dad over the line on lap 2. However Luke got embroiled in a battle with #45 Nicholas Button Honda CBR125 who took 2nd. with Luke placing 3rd. #9Y Christopher Young came in 4th with #52 Carl Kitson (K-Werks Aprilia RS4) 5th.
Commuterlite Championship Leader #128 Edward Poucher (Bred Racing Honda CBR125) finished 6th. followed by #93 Jason Davies #93 (Yamaha YFZR125) 7th.
Rest of Finishing Order 8th. #49 Gregory Burt (Yamaha YFZR125), 9th #41 Max Young (Honda CBR125), 10th. #69 Paul Evans (Old Farts Racing Honda CBR125), 11th. 75 Stephen Harley (Suzuki Gsx125), 12th. #717 Kenneth McLean (Honda CBR125), 13th. 68B Richard Bradford (Team Mungus Honda CBR125), 14th. #91 Joshua Thiele (Fire and Ice Coffee Honda CBR125) 15th #91 Karl Morschel (Honda CBR125).
Race 2
With a lights to flag win #11 Barry Young ran his own race to win comfortably from #9Y Chris young 2nd and #52 Carl Kitson 3rd. #3 Luke Young finished 4th. followed by #128 Edward Poucher 5th. and #93 Jason Davies 6th.
Race 3
With another Lights to flag win #11Y Barry Youngs 3rd win gave him a maximum score to win the day. Along with Barry #3 Luke and #9Y Christopher locked out the podium for race 3 and the Days results. Luke and Christopher were locked in battle with #52 Carl Kitson 4th. who missed out on the final podium position by 5 100th sec. Great close racing. Next up for 5th. #128 Edward Poucher's main championship rival #93 Jason Davies 6th.
This is the first time in the 34 year history of Bucket Racing that all podium positions have been taken by members of the same family
Commuterlite Round 4 final positions'
---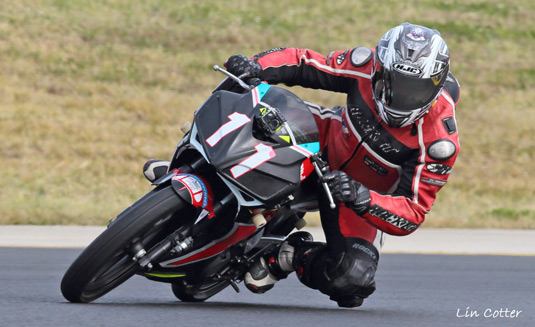 #11Y Barry Young dominated Commuterlites winning 3 races to win the day.
Another great days racing enjoyed by all.