News Page
Aug. 10th. 2012
Ready to Race The Tart almost there.
Latest pictures of progress of Tart Build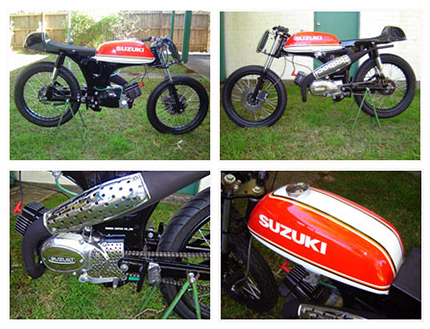 Latest additions are race expansion chamber, adjustable rear suspension which are mounted back in their original position and a proper race seat now it's starting to look like a race bike.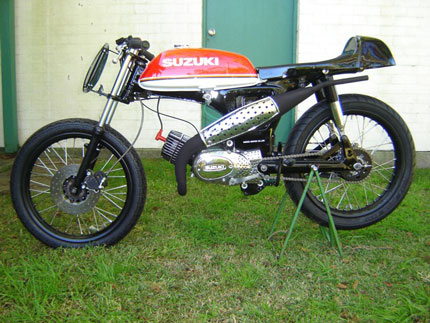 ---
Tart nears completion.
Dec.22nd. 2011
The "Tart" is almost ready and is expected to be at the first race meeting at Wakefield Park on 4th. Feb. 2012. The pictures show how much effort is being put into this project.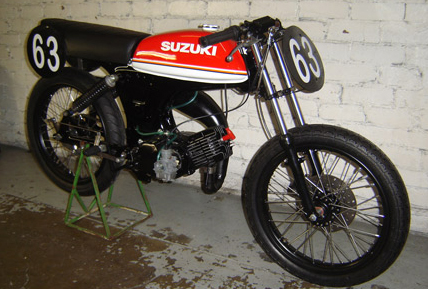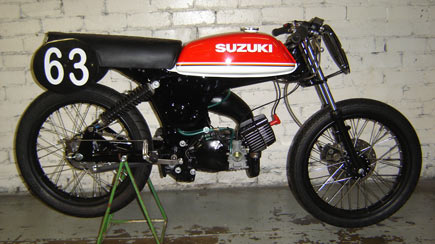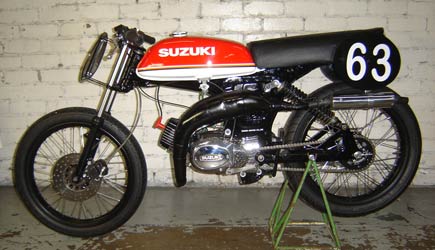 Suzuki A100 for Superlite Class. May cause some surprises in 2012
L.W.
---
News
July 2nd. 2011
Continuing on from the previous story about the resurrection of the Shitter the new owner wants it to be renamed "The Tart" a name more suited to it's colourful past.
The project is coming along with a complete engine rebuild including a rare hard to find close ratio gearbox and some tricky tuning. The wheels have been rebuilt and the frame and fuel tank repainted. It's starting to look quite smart.
This bike may very well be the sensation of it's class at the Bucket Nationals.
The pictures below show the progress being made.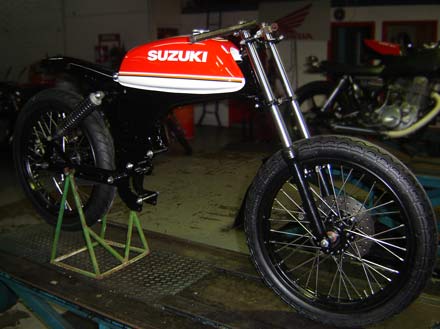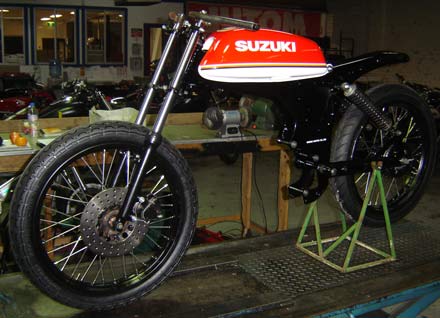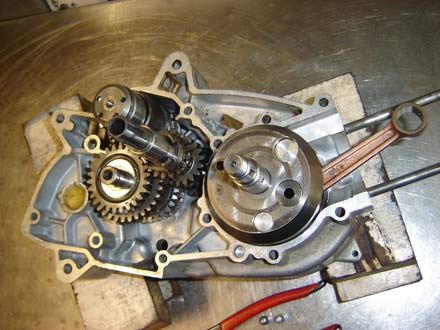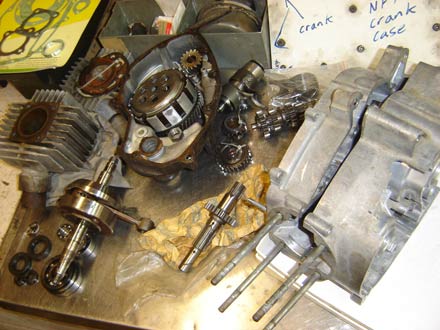 ---
News Flash
May 7th 2011
A well known Sydney businessman and purveyor of exotic racing motorcycles recently came across what must be the find of the century; the original SHITTER, resplendent in it's faded paintwork and attractive shadings of rust. This businessman who's identity will have to remain anonymous until the bike makes it return to the big event of the year, the Bucket Nationals at Wakefield Park in Sept. He says there is a strong movement amongst the racing fraternity to stop this machine ever competing again in fact he says he fears for his life.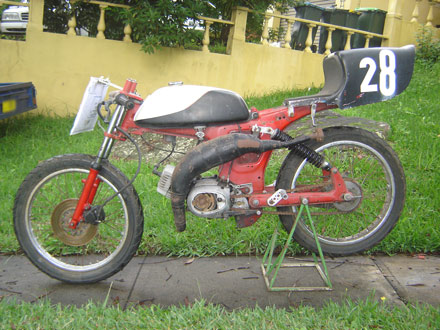 This is the bike so advanced for it's time that only one was ever made. Mentioning the Shitters name in conversations about racing with riders who raced at the time this feared machine was in action will have them reaching for their meds and making choking noises in the bathroom. Such is the effect this machine has on these poor wretches.
Of course those who rode it speak of astonishing power and handling, superb brakes and unbelievably comfortable riding position. The ingenuity of the rearsets mounted on the swinging arm getting all of the riders weight on the rear wheel thus curbing wheel spin and giving maximum traction. Why bother with traction control?
Why don't all those highly touted engineers in MotoGP and SBK cop on to that one. Aerodynamics was well looked after as well as the bulbous seat was carefully crafted around the riders posterior and exasperated competitors complained of never being able to get a tow off of this machine.
The frame is just the pinnacle of simplicity itself. Originally when this amazing machine was foisted on an unsuspecting bike racing community there was rumours that the monocoque was made from thinly disguised carbon fibre but this malicious rumour was quickly put to bed as were all the other rumours and protests. Note the random holes for lightness and a way of introducing flex to this exceptionally strong frame.
Already there are rumblings that this masterpiece should not be raced due to it being the only one of it's kind but really it is the fact that nobody wants to be beaten by a well ridden piece of crap.
Motorcycle journalist extraordinaire
Lewis Weil