Name: Anthony Bilston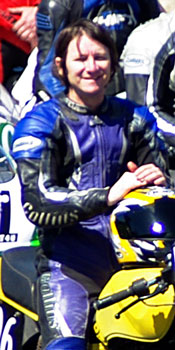 Nick Name: AB
Town: Canberra
Age: 48
Favourite Music: Doors, Zeppelin and most things on Triple J
Favourite Movie: Lord of the Rings Trilogy
Favourite Food: Roast corn beef and vegies or Thai
Favourite Colour: Blue
Favourite Car: HK Holden Monaro and 72-74 Dino Ferraris.

Hobbies: Racing.

First Motorcycle: 77 Yamaha RD250
First Road Bike: 77 Yamaha RD250

First Racing Bike: CB125J
What year did you start Bucket Racing?
2002
What age were you when you started Bucket Racing?
39
Any competition before Bucket Racing?
No, but attended a couple of club track days
What do like most about Bucket Racing?
The camaraderie, the close racing and revving the be-Jesus out of little motors.
When did you have your first win or best result?
First big win was the One Hour Enduro at Oran Park South with John Lalor on a Moriwaki.
Favourite Track?
Phillip Island and Wakefield Park
Favourite Event?
The One Hour Enduro Meeting.
Favourite Race bike?
The Britten.
Favourite Australian Rider?
Casey Stoner and Cameron Donald.
Favourite International Rider?
Guy Martin
Favourite International Race Series?
Isle of Man TT
Current bike projects?
Ducati desmo 450.
Likes?
Toblerone, foreign Movies and reading, not necessarily in that order...
Dislikes?
Brussel sprouts.
Best Years Racing?
2008 - collected 12 Trophies.
Results:
1987 - Blue Light Rally
2002 - Tony Angus Memorial Clubman of the Year
2003 - 2nd Place Teams Challenge with Mark Brehaut and Carl Henley
2003 – Engine Wrecker of the Year
2004 – One Hour Enduro 1st Place Motolite, Oran Park South, with John Lalor
2005 – Rd 2 Wakefield Park, 2nd Motolite
2005 – Rd 5 Oran Park South, 2nd Motolite
2005 – Australian Bucket Nationals, 2nd Place Motolite
2006 – "Looser" of the Year
2008 – Rd2 Wakefield Park, 3rd Place Formula 2 New Era1
2008 – Rd 3 Oran Park GP, 3rd Place AM Superlites
2008 – Rd 3 Oran Park GP, 2nd Place F2 New Era1
2008 – Rd 4 Oran Park South, 3rd Place Am Superlites
2008 – Rd 5 Oran Park GP, 2nd Place Am Superlites
2008 – Rd 5 Oran Park GP, 2nd Place 125cc Forgotten Era
2008 – Bucket Racing 20th Anniversary, 1st Place F2 New Era1
2008 – Bucket Racing 20th Anniversary, 3rd Place Am Superlites (nice "bucket" trophy!)
2008 – Bucket Racing 20th Anniversary, 2nd Place 125cc Forgotten Era
2008 – 3rd Place F2 New Era 1 Class
2008 – One Hour Enduro, Wakefield Park, 3rd Place New Era Formula 3
2008 – One Hour Enduro, Wakefield Park, 2nd Place 125cc P.C. & F.E.

2009-2010 spent over in Western Australia

2011 – Rd 1 Wakefield Park, 2nd Place, 125cc Forgotten Era
2011 – Rd 3 Eastern Creek, 3rd Place 125cc Forgotten Era
2011 – Rd 4 Broadford, 3rd Place, 125cc Forgotten Era
2011 – Club Championships, 2nd Place 125cc Forgotten Era
2012 – Rd 1 Wakefield Park, 3rd Place, 125cc Forgotten Era
2012 – Rd 1 Wakefield Park, 2nd Place Am Superlites
2012 – Rd 1 Wakefield Park, 3rd Place 500cc New Era


Bikes Owned:
Usually several at once.
1977 Yamaha RD250
1976 TT500 Yamaha
1977 Suzuki GS750
1972 Ducati Desmo 450 "Silver Shotgun"
1984 Honda XR350
1981 Suzuki GSX1100
1982 Kawasaki Z1000J
1976 Kawasaki Z900
1997 Suzuki GSF1200 Bandit
1975 Honda CB125J
1987 Kawasaki GPZ750
1996(?) Moriwaki 80cc
1980 Suzuki GS125
1982 Suzuki GS125
2007 Suzuki GS500F
1987 Suzuki GS125
*also owned a Triumph Tiger 500cc engine for a while…..*