Adam Cameron Conquers all in round 3 Motolite class
#17 Adam Cameron was in fine form winning all 3 races.#67 Baden Jones on
his Moriwaki 80 finished 2nd. #96 Jeff Brown came in 3rd on his Yamaha 85
#38 Junior Murphy Round 3 Superlite Pro Class Winner
Junior had 2 wins & a 2nd to win the day. #65 Tim Smith had 1 win and 2 2nds
to finish 2nd overall. 3rd in championship #169 Ian Gregory no points DNF
#11 Barry Young first win in Commuterlite AM Class
#11 Barry Young gets his first overall win in Commuterlite AM class. Keeping it
in the family #37 Luke Young was 2nd. #56 Robert Hodgson finished 3rd.

#101 Brad Lumb Rnd 3 Commuterlite PRO Class Winner
Brad (Honda CBR125) won all 3 races to score max points. #66 Andy Lewer
(CBR125) finished 2nd. #4 Martin Kraymaat in 3nd. on his Yamaha YZFR125

Outright Winners of 2017 One Hour Ken/Keo Watson.
On a wet slippery track Dad & son Ken and Keo Watson won outright plus
Commuterlite Class. Greg Oates/Tom Harrison 2nd, Max/Chris Young 3rd.
1 hour Motolite Winners 170 Michael Child/Blair Briggs.
Michael and Blair rode consistently to win Motolite class and 2nd overall.
The #81 Aprilia of Robert Tisdell/Stuart Ellis finished 2nd.
2017 Superlite 1 Hour Winners #38 Junior/Jim Murphy.
Junior battled with #65 Tim Smith/John Olip duo pipping Tim on the line
by half a tyre width. #8 Kurt Wagus/Ian Gregory were 3rd after a troubled run.
If you live in NSW and have ever wanted to go bike racing this is the place to be. Home brewed bikes on race tracks offers outdoor fun while racing, and hours of indoor pleasure, home brewing your special machine!
A full list of the bikes that you can use are in our Rules Section. But if you want to buy one ready made see the Links page and in particular The Australian Road Racing forum. Otherwise contact a committee member and see if they know of any bikes for sale.

Anyway, browse around this site and check us out. If you are interested in racing either contact anyone on the Club Committee or come along to one of the meetings on the Race Calendar, check out the racing and introduce yourself.
Even if you don't want to race, we can get you on the smelly side of the fence in one of the best seats in the house as a flag marshal - A day at the races for free!

Links to:
- Rules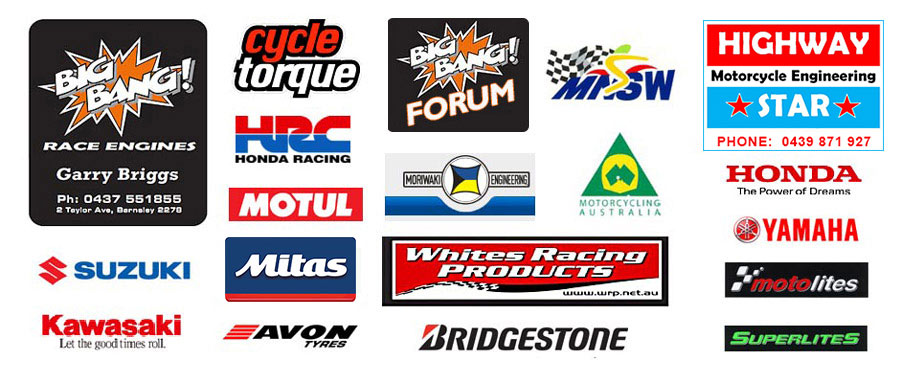 Copyright of The Bucket Racing Association NSW © 2018 All Rights Reserved