Thirty Years of Bucket Racing
1988 to 2018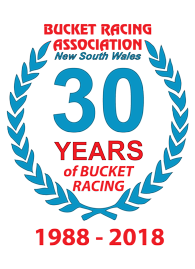 In 2018 The Bucket Racing Association of NSW will be celebrating it thirtieth Anniversary. It seems like only a short while ago we were celebrating the 25th Anniversary, how time flies. More...
To read "30 Years on, what is Bucket Racing?"
Click Here...
BRA Promotion Stand at IFOS
As in previous years of the IFOS and Barry Sheene Festival of Speed the Bucket Racing Associations display stand was a busy meeting point for people interested in starting racing or just interesed in what Bucket and Historic racing is all about.
Bikes from all Bucket classes were on display as well as a P6 Historic Honda RS125.
Information pamphlets and application forms for Bucket Racing and Historic racing were available. Enthuastic club members were on hand to answer any questions.
MITAS tyres were on display, Mitas Race Tires the winning edge.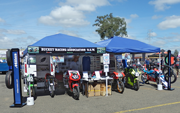 Start Bucket Racing
BRA Membership
Renewals
It's that time of Year again.

Membership renewals are due again so don't delay send your remittance along to our esteemed treasurer John and continue to be part of the fastest growing and cheapest form of Motorcycle sport, Bucket Racing.
The Application form can be downloaded
Here...
Payment can be made by cheque, money order, Direct debit (Bank details on form)
OR
Payment to the Treasurer via PayPal.Me can be made Here...
Please fill in your details in the Notes Message box on the
PayPal Me Form
.
SPECIAL OFFER
Twenty of the Bra T-shirts in various sizes are left over and are being offered with the first twenty new or renewing Memberships. Sizes left are limited. Please advise your preferred size when doing application.
FIRST IN FIRST
SERVED
Quick Links:
If you live in NSW and have ever wanted to go bike racing this is the place to be. Home brewed bikes on race tracks offers outdoor fun while racing, and hours of indoor pleasure, home brewing your special machine!
A full list of the bikes that you can use are in our Rules Section. But if you want to buy one ready made see the Links page and in particular The Australian Road Racing forum. Otherwise contact a committee member and see if they know of any bikes for sale.

Anyway, browse around this site and check us out. If you are interested in racing either contact anyone on the Club Committee or come along to one of the meetings on the Race Calendar, check out the racing and introduce yourself.
Even if you don't want to race, we can get you on the smelly side of the fence in one of the best seats in the house as a flag marshal - A day at the races for free!

Links to:
- Rules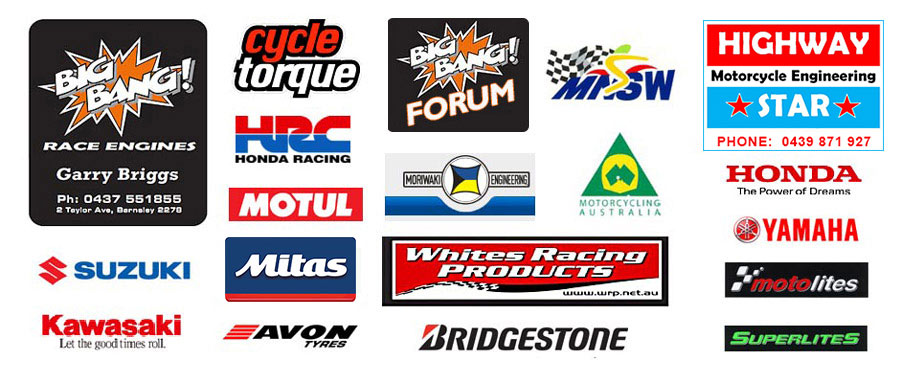 Copyright of The Bucket Racing Association NSW © 2018 All Rights Reserved